PVC fiber reinforced hose, which is also commonly known as PVC flexible tube. Hose / Pipe / Tube is three layers structured, both inside and outside layer are soft plastic PVC, and the middle layer is polyester fiber reinforced net, which has good chemical and mechanical properties.
The hose is applicable to corrosive gas, liquid transportation, such as chemical, petroleum, machinery, coal, agricultural irrigation, solar water heater, gas cylinder, etc.
Characteristics:
It is flexible,transparent,durable,non-toxic,without odor,anti-erosion and adaptable to high pressure condition.By adding colorful symbol lines on the surface of the hose,it looks more beautiful.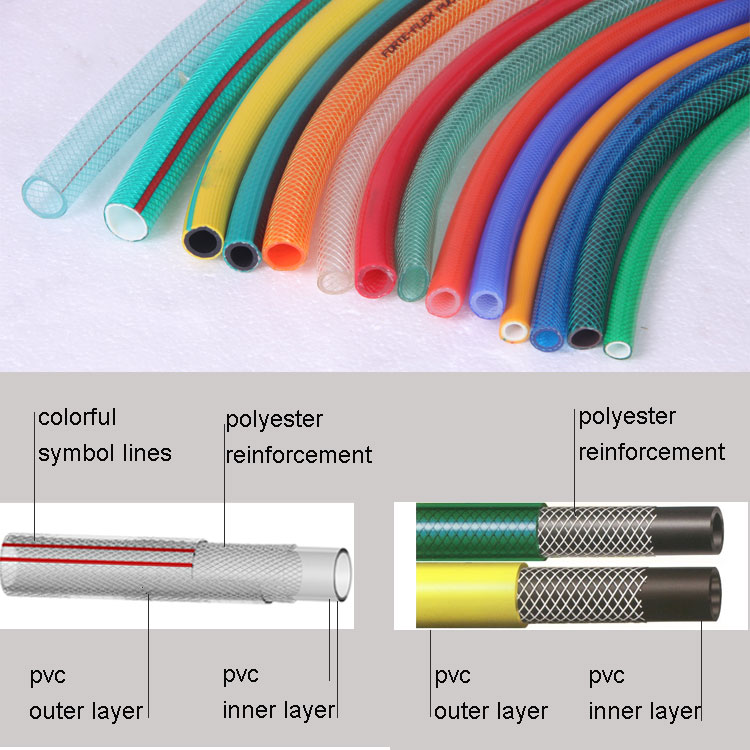 Temperature: -10℃ to +65℃
Specification
Item Code
Size
W.P.
B.P.
Length
Weight
Volume
I.D
O.D
inch
mm
mm
psi
bar
psi
bar
m/roll
kg/roll
m3
PFH-05
13/64"
5
9
116
8
363
25
100
5.8
0.012
PFH-06
1/4"
6
10
145
10
435
30
100
6.6
0.015
PFH-06B
1/4"
6
11
145
10
435
30
100
8.8
0.018
PFH-06C
1/4"
6
12
145
10
435
30
100
11.2
0.019
PFH-08
5/16"
8
12
145
10
435
30
100
8.3
0.019
PFH-08B
5/16"
8
13
145
10
435
30
100
10.9
0.025
PFH-08C
5/16"
8
14
145
10
435
30
100
13.7
0.029
PFH-09
3/8"
9
13
131
9
392
27
100
9.1
0.025
PFH-09B
3/8"
9
14
131
9
392
27
100
11.9
0.029
PFH-10
13/32"
10
14
116
8
348
24
100
9.9
0.029
PFH-10B
13/32"
10
15
116
8
348
24
100
13
0.032
PFH-10C
13/32"
10
16
116
8
348
24
100
16.2
0.038
PFH-12
1/2"
12
16
102
7
305
21
100
11.6
0.038
PFH-12B
1/2"
12
17
102
7
305
21
100
15
0.042
PFH-12C
1/2"
12
18
131
9
392
27
100
18.7
0.045
PFH-13
1/2"
13
17
87
6
261
18
100
12.4
0.042
PFH-13B
1/2"
13
18
87
6
261
18
100
16.1
0.045
PFH-13C
1/2"
13
19
116
8
348
24
100
19.9
0.052
PFH-14
35/64"
14
19
102
7
305
21
100
17.1
0.052
PFH-14B
35/64"
14
20
102
7
305
21
100
21.1
0.057
PFH-15
5/8"
15
19
87
6
261
18
50
7.05
0.030
PFH-15B
5/8"
15
20
102
7
305
21
50
9.05
0.030
PFH-15C
5/8"
15
21
116
8
348
24
50
11.2
0.030
PFH-16
5/8"
16
20
73
5
218
15
50
7.45
0.030
PFH-16B
5/8"
16
21
102
7
305
21
50
9.6
0.030
PFH-16C
5/8"
16
22
116
8
348
24
50
11.8
0.031
PFH-18
45/64"
18
24
87
6
261
18
50
13.05
0.035
PFH-19
3/4"
19
23
58
4
174
12
50
8.7
0.043
PFH-19B
3/4"
19
24
58
4
174
12
50
11.15
0.043
PFH-19C
3/4"
19
25
102
7
305
21
50
13.7
0.045
PFH-19C
3/4"
19
26
116
8
348
24
50
16.3
0.050
PFH-20
25/32"
20
25
87
6
261
18
50
11.65
0.046
PFH-20B
25/32"
20
26
87
6
261
18
50
14.3
0.048
PFH-20C
25/32"
20
27
102
7
305
21
50
17.05
0.051
PFH-20D
25/32"
20
28
102
7
305
21
50
19.9
0.057
PFH-22
7/8"
22
27
73
5
218
15
50
12.7
0.056
PFH-22B
7/8"
22
28
87
6
261
18
50
15.55
0.058
PFH-22C
7/8"
22
29
87
6
261
18
50
18.5
0.058
PFH-22C
7/8"
22
30
102
7
305
21
50
21.55
0.058
PFH-25
1"
25
30
58
4
174
12
50
14.25
0.068
PFH-25B
1"
25
31
73
5
218
15
50
17.4
0.072
PFH-25C
1"
25
32
73
5
218
15
50
20.65
0.077
PFH-25D
1"
25
33
87
6
261
18
50
24.05
0.079
PFH-32
1-1/4"
32
39
58
4
174
12
40
20.6
0.119
PFH-32B
1-1/4"
32
40
73
5
218
15
40
23.88
0.119
PFH-32C
1-1/4"
32
41
73
5
218
15
40
27.24
0.103
PFH-32D
1-1/4"
32
42
73
5
218
15
40
30.68
0.103
PFH-38
1-1/2"
38
45
58
4
174
12
40
24.08
0.151
PFH-38B
1-1/2"
38
46
58
4
174
12
40
27.84
0.151
PFH-38C
1-1/2"
38
48
58
4
174
12
40
35.64
0.155
PFH-45
1-3/4"
45
55
58
4
174
12
40
41.44
0.217
PFH-50
2"
50
58
44
3
131
9
40
35.8
0.198
PFH-50B
2"
50
59
58
4
174
12
40
40.68
0.198
PFH-50C
2"
50
60
58
4
174
12
40
45.6
0.198
PFH-50D
2"
50
62
58
4
174
12
40
55.72
0.209
PFH-64
2-1/2"
64
78
58
4
174
12
40
82.4
0.304
PFH-75
3"
75
90
58
4
174
12
40
102.6
0.35