1:Agricultural irrigation, mining, construction, gardening, building drainage
2:Fit for water pump with head below 40m lay length within 1000m
3:Home gardening, public green space,Agricultural production,Horticultural production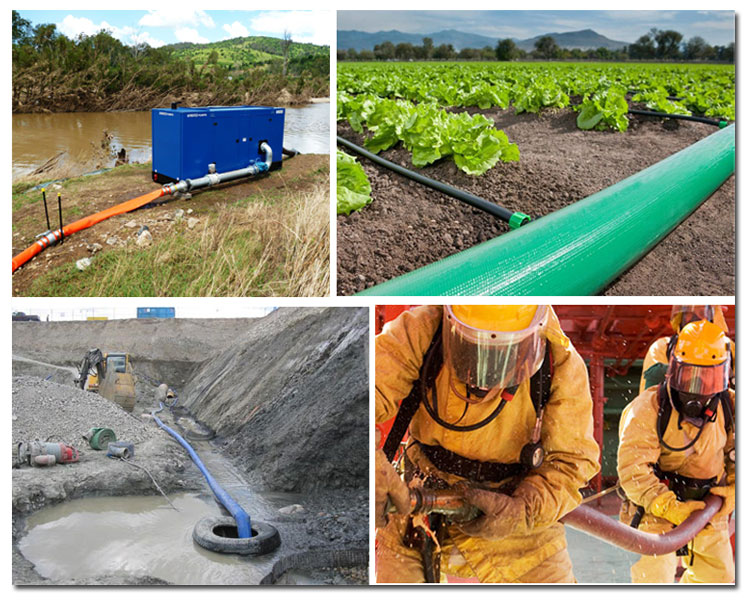 Description:
Flexible lay flat hose is a tough water discharge hoses made with a PVC cover and reinforced polyester yarn.The high tensile polyester yarn provides great durability and strength in all working situations. it is highly durable while maintaining great flexibility and best suited for low – medium pressure applications.
Features:
Light weight,Good flexibility.
Corrosion resistant,anti-aging.
Easy use & storage.
Different colors available.
Assemblies and/or cut lengths available.
Burst pressure 3 times working pressure.
Non-toxic,Non-smell
Specification (standard duty)














Item Code
Inner Diameter
W.P.
B.P.
Length
Weight
Volume
inch
mm
psi
bar
psi
bar
m/roll
kg/m
m3
PLHS20
3/4"
20
58
4
218
15
100
0.14
0.014
PLHS25
1"
25
58
4
218
15
100
0.15
0.019
PLHS32
1-1/4"
32
58
4
218
15
100
0.17
0.023
PLHS38
1-1/2"
38
58
4
218
15
100
0.21
0.026
PLHS51
2"
51
58
4
174
12
100
0.23
0.039
PLHS64
2.5"
64
58
4
174
12
100
0.32
0.047
PLHS76
3"
76
58
4
174
12
100
0.36
0.060
PLHS102
4"
102
58
4
174
12
100
0.55
0.083
PLHS125
5"
127
58
4
174
12
100
0.75
0.109
PLHS153
6"
153
58
4
174
12
100
0.90
0.141
PLHS203
8"
203
58
4
174
12
100
1.80
0.193
PLHS254
10"
254
58
4
174
12
50
2.60
0.178
PLHS305
12"
305
58
4
174
12
50
3.10
0.245
Specification (Medium duty)














Item Code
Inner Diameter
W.P.
B.P.
Length
Weight
Volume
inch
mm
psi
bar
psi
bar
m/roll
kg/m
m3
PLHM19
3/4"
20
87
6
305
21
100
0.14
0.014
PLHM25
1"
25
87
6
305
21
100
0.17
0.019
PLHM32
1-1/4"
32
87
6
305
21
100
0.19
0.023
PLHM38
1-1/2"
38
87
6
305
21
100
0.24
0.026
PLHM40
1-1/2"
40
87
6
261
18
100
0.26
0.026
PLHM51
2"
51
87
6
261
18
100
0.30
0.039
PLHM64
2.5"
64
87
6
261
18
100
0.45
0.047
PLHM76
3"
76
87
6
261
18
100
0.50
0.060
PLHM102
4"
102
87
6
261
18
100
0.90
0.083
PLHM125
5"
127
87
6
261
18
100
1.10
0.109
PLHM153
6"
153
87
6
261
18
100
1.80
0.141
PLHM203
8"
203
87
6
261
18
100
2.80
0.193
Specification (Heavy duty)














Item Code
Inner Diameter
W.P.
B.P.
Length
Weight
Volume
inch
mm
psi
bar
psi
bar
m/roll
kg/m
m3
PLHH20
3/4"
20
145
10
435
30
50
0.15
0.007
PLHH25
1"
25
145
10
435
30
50
0.20
0.010
PLHH32
1-1/4"
32
145
10
435
30
50
0.21
0.012
PLHH38
1-1/2"
38
145
10
435
30
50
0.29
0.013
PLHH40
1-1/2"
40
145
10
435
30
50
0.30
0.013
PLHH45
1-3/4"
45
145
10
435
30
50
0.35
0.018
PLHH51-1
2"
51
116
8
348
24
50
0.35
0.020
PLHH51-2
2"
51
145
10
435
30
50
0.42
0.020
PLHH64
2.5"
64
145
10
435
30
50
0.70
0.024
PLHH76-1
3"
76
116
8
348
24
50
0.66
0.030
PLHH76-2
3"
76
145
10
435
30
50
0.85
0.030
PLHH102
4"
102
116
8
348
24
50
1.00
0.042
PLHH102
4"
102
145
10
435
30
50
1.20
0.042
PLHH153
6"
153
116
8
348
24
50
2.20
0.071
PLHH203
8"
203
116
8
348
24
50
2.80
0.010