Application:
The hose is widely used in high pressure industrial, compressors, service station and pneumatic tools.
In agriculture, delivery pressure hose of pesticide, fungicide, fertilize solution also containing mineral oils for agriculture spraying.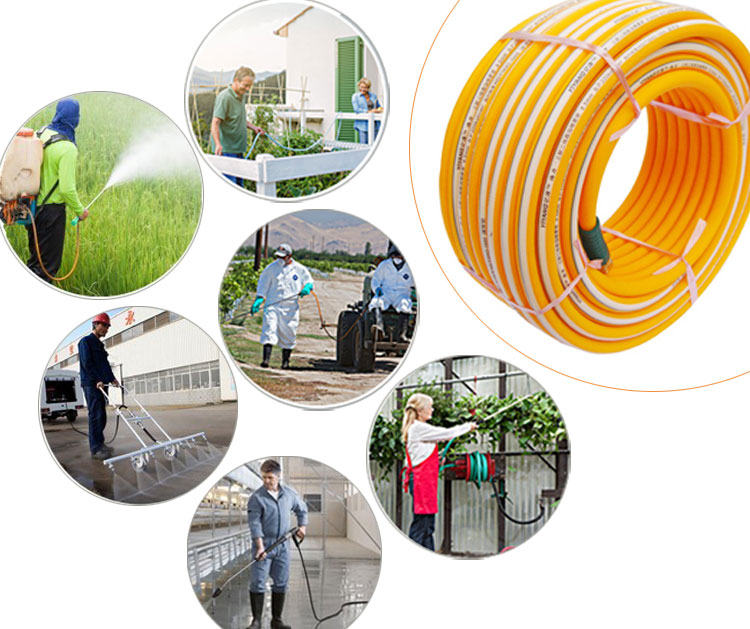 Material:
1.PVC(outer layer): Anti-UV Anti-aging;
2.Middle woven reinforced fabric: bending resistance,pressure resistance,anti-explosion;
3.PVC(Inner layer): low/high temperature resistance
Characteristics:
Being made of tough PVC materials and high tensile polyester reinforcement.
It is light,flexible,durable,anti-erosion,acid,alkali
Good flexibility and adaptability against climate.
Standard length: 50m, 100m
Temperature: -5℃ ~65℃
Specifications
2 PVC and 1ply high pressure spray hose
Item Code
Size
W.P.
B.P.
Length
I.D
O.D
inch
mm
mm
psi
bar
psi
bar
m/roll
PSPH-06A
1/4"
6.5
11.5
624
43
1885
130
100
PSPH-08A1
5/16"
8
13
580
40
1740
120
100
PSPH-08A2
5/16"
8
13.5
580
40
1740
120
100
PSPH-08A3
5/16"
8.5
13.5
580
40
1740
120
100
PSPH-08A4
5/16"
8
14
580
40
1740
120
100
PSPH-10A
3/8"
10
15
580
40
1740
120
100
3 PVC and 2 ply high pressure spray hose
Item Code
Size
W.P.
B.P.
Length
I.D
O.D
inch
mm
mm
psi
bar
psi
bar
m/roll
PSPH-06B
1/4"
6.5
12
870
60
2610
180
100
PSPH-08B1
5/16"
8
13.5
870
60
2610
180
100
PSPH-08B2
5/16"
8
14
870
60
2610
180
100
PSPH-08B3
5/16"
8.5
14
870
60
2610
180
100
PSPH-10B
3/8"
10
16
725
50
2175
150
100
PSPH-13B
1/2"
13
19
725
50
2030
140
100
Full Dense Braided High Pressure 5 layer high pressure hose

Item Code
Size
W.P.
B.P.
Length
I.D
O.D
inch
mm
mm
psi
bar
psi
bar
m/roll
PSPH-06C
1/4"
6.5
12
899
62
2683
185
100
PSPH-08C1
5/16"
8
13.5
870
60
2610
180
100
PSPH-08C2
5/16"
8
14
870
60
2610
180
100
PSPH-08C3
5/16"
8.5
14
870
60
2610
180
100
PSPH-10C
3/8"
10
16
798
55
2393
165
100
PSPH-13C
1/2"
13
19
725
50
2175
150
100